As term comes to an end for our third year degree students and their final projects, we're focussing on a few students to talk about their projects, what they plan to do next and life at dBs Music. Here, we meet Ellie Holland a student from our Music Production and Sound Engineering BA (Hons) degree whose project Dutchie & Friends is making waves in local music scene...
Hi Ellie, tell us a little bit about your final year project and how the idea came about, what was the inspiration?
"The project Dutchie & Friends was a multi genre, collaborative six track EP inspired by the vibrant and diverse music scene within Bristol. Originally I was planning on making it a continuous piece that morphed through the genre fusions but it ended up being more practical to create six very different tracks that highlighted my versatility as a songwriter, recording engineer and producer as well as the talents of the musicians involved."
What have been the biggest challenges in getting the project done?
"Time management! Endless recording and editing sessions, trying to find dates that worked for all the musicians etc and keeping tabs on the progress of each track/ what needed to be done next on each. The technologies involved in the creation of this EP vary massively: Oh Dee and Mali were pretty much entirely made on Ableton at home with lots of electronic production, synthesis, and sample based production, whereas every part for Shadow Boss was written and recorded live around a vocal and guitar part that I wrote previously, then mixed down using the SSL Duality and hardware processors."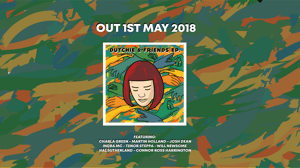 What do you hope the project might lead to after dBs Music?
"The project has already lead to offers for collaboration and features from some other producers and the promotion of it in Nitelife Magazine has given me a bit more exposure as an artist. One of the main reasons for doing this project was also to make sure I finished some new music before the festival season, so it's great to have 6 brand new tracks to play out during my DJ sets."
What are you hoping to do for the rest of your career?
"This summer I will be working various sound engineering and stage production jobs at festivals as well as playing sets under the Dutchie and Hold Tight Records brands. The Revinyl Sessions brand also has some cool stuff coming up, we are planning some DJ and production workshops and generally working towards making it a really solid, local, community based company. I also recently did a couple of hours work doing a vocal training session with a singer that's just starting out, it went really well and I will be running more of those sessions at some point!
"Beyond that I'm not sure, I think I will try to keep the music making as something that is fun and low pressure and seek work in the engineering, education and logistical side of the industry. This will not only take the stress off the creative process but also opens up more opportunities as there is more immediate work in these areas."
Overall, how has the dBs Music experience been, what would you say to anyone considering studying at dBs Music?
"It's been a great experience, I have really enjoyed using all the professional grade studio equipment for my own music and have met lots of lovely, passionate people through it! Uni isn't for everybody, you do need to consider that although it's a creative course there are still deadlines and a lot of academic legwork involved and it's not just 'making beats' for three years! However, I would say to anyone thinking about it: give it a go as that is the only way to find out if it's right for you!"
FIND OUT MORE
dutchiebristol.bandcamp.com
soundcloud.com/dutchiebristol
---
Don't miss more stories like this