We're focusing in on another brilliant student and final year project. This time we're meeting Callum Godfroy, a student featured previously on the blog after winning the converted Neve Excellence Award. His ambitious final year project saw him recording, mastering and releasing an album in a day, we tracked him down to find out more...
Tell us a little bit about your final year project...
"My final major project was a live studio album recording of the Bristol band Yo No Se. The inspiration for this project came from the idea that music recording and release technologies have advanced to the point where an artist could record and release an album in the same day. Rather than spending months producing a recording and then even longer releasing and distributing the product in order to reach fans; artists are now able to be constant providers of content, whenever they wish to release music. This was be achieved by simultaneously recording, mixing and mastering the bands performance to a stereo audio track in the ProTools. Once the recording was made, the entire performance was uploaded to the band's Bandcamp page.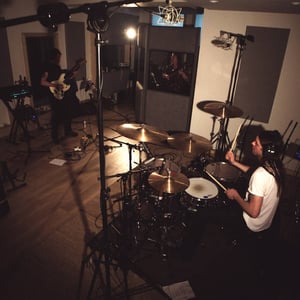 "This project did not intend to replace current recording practices, but instead; this project aimed to present a snapshot of a bands performance at a certain point in their career. This idea was exciting for me because I feel like there would be few things more exciting than being told that my favourite band were recording an album one day and then being able to hear the finished product the very same day."
What have been the biggest challenges in getting the project done?
"The biggest challenge that I faced was ensuring that a good mix was achieved across a varying style of tracks within the album and this was made more difficult by the constraint of having to achieve this within a single take. Because of this, I had to adaptively perform as an engineer on the mixing console as the band were performing. This led me to draw comparisons between my project and the processes behind dub engineering. The majority of my role during the performance was to maintain a balance between each element, however, the more creative aspects of my engineering involved adjusting the send levels of elements to reverbs and delays.

"Using the SSL duality delta in dBs Music's Bristol HE studio 6 allowed an incomparable level of control over each element of the mix, given that each channel features preamp distortion, compression, expansion/gate, equalisation and plenty of FX, Cue sends and VCA group faders. Because of this, I'd argue that this process could be achieved using only the SSL duality and ProTools. However; having a large amount of outboard hardware including the Empirical Labs Distressors and Bricasti M7 Digital Reverb, as well as a mastering trolley with hardware from D.A.V and Maselec, allowed me to expand the production possibilities of the album greatly.


What do you hope the project might lead to after dBs Music?
"I'm hoping to keep recording artists in this way because, not only is it exciting to have a challenge to work in this process, but it allows artists to be involved in a unique project that immediately provides a product for their fans and can be a more comfortable studio experience for them, given that it is similar to playing a gig."

What are you hoping to do for the rest of your career?
"I'm hoping to continue working as a recording and mixing engineer and I am also working on a number of experimental music processes. I find the idea of incorporating experimental processes into more conventional studio work really exciting so my next main project will most likely be an album that features some of this work. Obviously, by not sticking to conventional practices in the studio, more unique results can be achieved. This is something that the work of engineers such as Brian Eno or Sylvia Massey has influenced."

Overall, how has the dBs Music experience been, what would you say to anyone considering studying at dBs Music?
"Being at dBs Music has been a great experience for me because I have had access to studio facilities and equipment that I could have never used if I had chosen not to study or had studied elsewhere.
More importantly however, studying under lecturers such as Chris Littlewood [recording and mixing theory], Emmanuel Spinelli [experimental music processes] and Kris Burton [mastering processes] has expanded my understanding of creative technique greatly over the three years. The information and concepts that I gained through attending lectures allowed me to be able to create anything that I wanted when using the studios in my own time.
FIND OUT MORE
https://yonoseband.bandcamp.com

---