With a stack of remixes and productions under his belt and a busy touring schedule with his live band, Dr Meaker has been steadily growing his profile into a solid long-term and impressive career in music.He's remixed some of the biggest names in music, performed for the BBC Radio One live lounge and released on dance music's biggest labels. So, it was after his fantastic guest lecture for our Electronic Music and Music Production and Sound Engineering students we caught up with Dr Meaker for a quick chat...
Tell us a little bit about the guest lecture and what you came into dBs Music to talk about...
I came into dBs Music to talk about my experiences as a working musician, producer and touring artist. I talked about how important it is to be emotionally intelligent when working with others in the creative industry. I also discussed branding and how important I feel that is when forming an identity.

How did you find doing the guest lecture?
"I thoroughly enjoyed sharing my real life experiences and engaging in discussions and conversations with the students at dBs Music. The time flew by which is a good indicator that we were all very much in the moment and engaged in the lecture."

What did you think of the dBs Music facilities? Favourite kit/studio you spotted?
"The facilities are excellent. Brand new iMacs thorughout and calm and spacious working environments looks idea for the students. The whole feel of the place is vibey yet clean and work inspiring.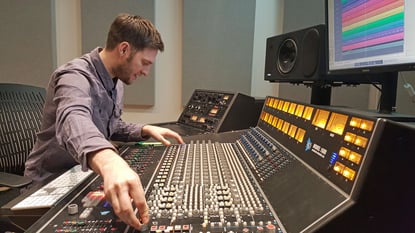 The two mixing desks I saw [The SSL Duality and API 1608] are top level, glorious pieces of technology and I was luck enough to have a play on the API and look forward to the possibility of a using the facilities to record and mix a song with your students.

"I've been enjoying making music with no pressure and going back to the roots of it all, which feels refreshing again. I'm also starting a new project which I'll reveal a little later in the year. I have just released a new LTD EDITION ART COLLECTION with Gethin Ceidiog-Hughes called 'Broken Souls'. There are 3 pieces inspired by 3 songs from our album 'Dirt & Soul' and Carl Syn's original cover art for the album. 100 hand made Prints on a unique paper. Check them out here http://sixthcharacter.com"

What projects do you have coming up and where can people find out more about Dr Meaker?
My new album 'Dirt & Soul' is out now on Circus Records and can be purchased from iTunes
http://smarturl.it/DirtSoulPRE or on Vinyl at Rise Records on Park Street, Bristol.

Festivals and gigs coming up with the Dr Meaker live band:
01/03/17 - Old Market Assembly, Bristol - (DJ Set)

31/03/17 - Northampton - (DJ Set)

01/04/17 - Fantazia, Bristol - (DJ / PA Set)

15/04/17 - Peckham Soul Train, CLF Arts, London - (Live)

22/04/17 - Boca Bar, Glastonbury - (Live)

06/05/17 - Bassick, Switzerland - (DJ Set)

19/05/17 - Subsonic Festival (DJ Set)

02/06/17 - The Great Estate Festival (Live)


03/06/17 - Field Party Festival - Somerset - (Live)

18/06/17 - Swansea Uni Summer Ball (Live)

21/06/17 - Cambridge Uni Summer Ball, (Live)

01/07/17 - Tremor Day Festival - Trinity, Bristol (Live)

01/07/17 - Nibley Festival (Live)

08/07/17 - Bristol Pride Festival - (Live)
FIND OUT MORE
www.facebook.com/drmeaker