Inspired by his father at the early age of only six years-old, Kris was already making an appearance on stage before turning ten. He has since gone on to spend more than twenty years thrilling audiences throughout the globe playing live. A published author who has written many guitar-technique columns, books and instructional DVD's; Kris currently writes a guitar technique column for Blues Matters magazine.The band has released two albums: The self-titled debut album in March 2015 and the latest release, 'Lucky 13' in April 2016. The second album has been a much larger success, reaching number 2 in the Amazon Blues Charts and number 3 in the iTunes charts. The album has also been voted 'Pick of the month' by the Independent Blues Broadcasters Association. We caught up with Kris prior to his show at Bristol Bierkeller to talk gear, his album and what he's learnt along the way...
Tell us about your go to guitar...
"It tends to change all the time between my Strat and my Telecaster. This year I love my Tele the most whereas last year it was the Strat. My Telecaster is a Fender USA Custom Shop relic and it's not particularly old, around 2006 I think. It originally was a '62 humbucker model but the guy who I bought it from changed the scratch plate, took out the humbuckers and put in Bare Knuckle single coil pickups and I really like it like that. The Bare Knuckles have great attack, great tone and people always comment upon how much power that Tele has. It's by far the best Tele that I've played. The two guitars I have now, I would never sell, As for strings, I only use Elixir Strings in a 11 gauge. I love the tone and they last so much longer than regular strings so I don't have to change them half as much as others particularly with the new Optiweb ones."
There's some players that go through a lot of gear, buying and selling, is your house and studio full of guitars and amps?
"Probably not as much as some guys, but probably more than others! I tend to have genius brain waves like 'I need this, I MUST have this guitar in my life!' then about 3 months later I'm like 'Ah crap, I don't use it' so on to eBay it goes. Most of my gear I have bought of of eBay. If I'm spending good money, say a couple of grand, I gotta try it out first. With the Tele I went to the guys house in Birmingham, tried it out and it was awesome so done deal. I was about 16/17 when I bought my Strat so I've had that about 15 years or so. That was bought off of eBay for £400 and I took a punt on it as I hadn't played it, it was going to be a bit of project guitar as I can set up guitars, do repairs etc. I had a guy refinish, relic it and I put new pickups in of Seymour Duncan Hotrail in the neck and Hot For Strat in the bridge. Those pickups are single coil put they have some extra power to them and bite."
Is there anything different in your set up to what a lot of players have or don't have?
"I don't tend to use many pedals for a start. A lot of guitarists will turn up with a massive pedalboard whereas mine is very simple. For my own playing I rely upon the sound from the amp, volume and tone knobs on the guitar to gauge cleanliness of the tone as it were. I use a boost for solos in an MXR Micro Amp and my Robert Keeley Red Dirt Distortion/Overdrive for those special moments. A little bit of delay is from the Boss Digital Delay DD-3 which are a staple for most players over the years. With session stuff I have to have different sounds like I am at the moment on the Caitlin Koch tour who's a great country singer from Nashville. I needed to have a Chorus effect for a couple of songs so out came the Boss Super Chorus CH-1. You noticed there's no Wah pedal, you know I've used one before and have a Jim Dunlop Cry Baby but for me it's not something I gravitate towards anymore, but that may change. You tend to see a lot of the younger players hammering away on the wah and it's fun and all that but as with anything you can do something too much."

Your amp is a bit of a rare find, how did that come about and are there more hidden gems in your studio?
"I know a little about it but it's a mysterious one! It's a Roberts 50 watt valve amp, with the valves being EL34's. Only a handful were made and they all disappeared into the ether, incidentally I believe it was made here in Bristol.
I picked it up off on old school friend of mine who was selling a bunch of gear, I'm not sure how he came to have, I think he had an endorsement when he was on tour or something. Initially I only bought it for use in my studio but it impressed me so much I thought 'Yeah, let's take this out on the road'. It's got a lot of punch to it and also cleans up real nice. I'm not a massive gear head to be honest, I have a home studio and a proper studio. My home studio is where I tend to do most of my writing whereas the full studio is used for recording and also a but of a dumping ground for gear, I also teach guitar out of there too. There's some old bass rigs and other bits and bobs that I haven't gotten around to selling as yet. In my home studio I have a Mac set up and I have a 6 Watt Conford Harlequin valve amp which they don't make anymore and it's an awesome amp for writing and recording with."

What's the theme and influences behind your new album, Lucky 13?
"I took about a year to write the songs and didn't rush any of them with the band and I gigging the songs one by one to get them real tight before heading in to record. The idea behind the name Lucky 13 is that it's my thirteenth year as a working musician and I believe it's my best work to date. My other job I had before and kind of during was that of a professional Mixed Martial Arts fighter where I got to fight all over the world in Singapore, Las Vegas and Thailand. I get asked all the time 'How can you fight and play guitar?' but I've had broken thumbs and can still play! These days I think about it a lot more as I am more focused on my music. When I was 17/18 i was a bit of a shredder and was well known in that scene. I was heavily involved in writing guitar technique books, DVD's and doing clinics with me touring the US twice. Then all of a sudden it didn't go anywhere. I was training for fun for fighting and decided to have a couple of fights where the music was drying up a bit. I think I got a bit disenchanted by it as when you're that age and people all around you are telling you that you're going to be famous and it doesn't happen, it hurts. I was still gigging around in bands whilst fighting and still teaching but now the focus is on my music. There's definitely lessons I've taken from fighting, but not consciously, with a lot of dedication and commitment as it takes a certain type of character to fight! I have a couple of businesses on the side in fight promoting and a gym so I take the lessons I've learned in marketing and apply that to my music which has helped hugely. A lot of younger artists think that things are just going to come to them but they need to learn that they need to treat their playing like a business also for the best effect."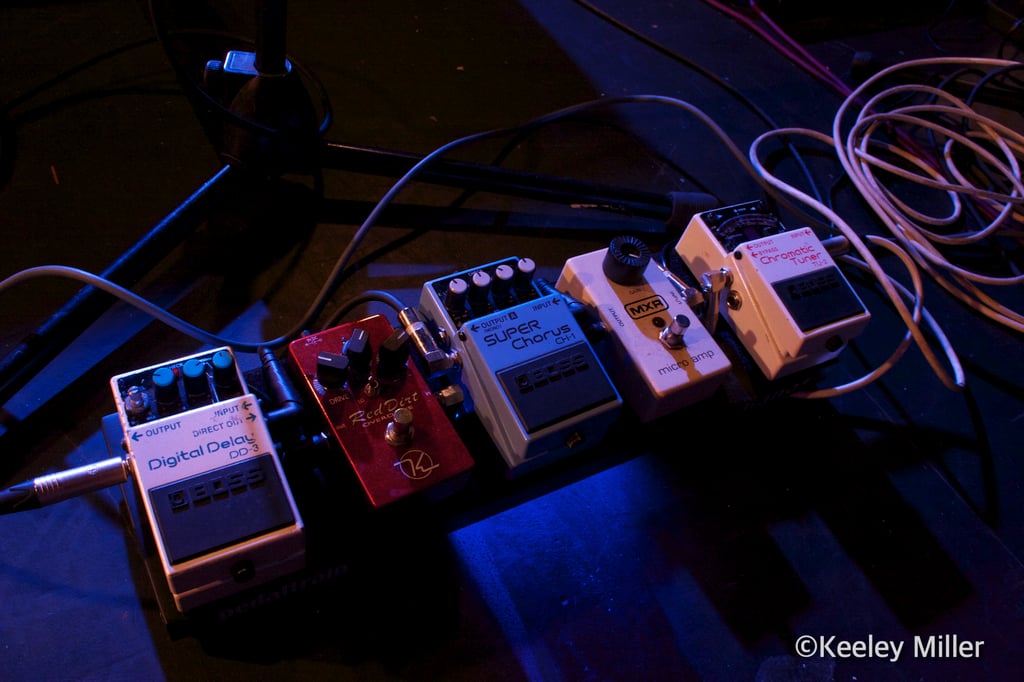 Where can people come and see you play this year?
"We're on UK tour at the moment which we're really enjoying and pretty soon it's festival season with us playing at Ramblin Man Fair which is going to be awesome as it's all my favourite bands playing so I'm honoured to be on the bill. I'm actually playing twice there as on the Saturday it'll be with Caitlin Koch again on the Outlaw Stage and then Sunday on the Rising Stage with my own band. In September we have a European tour with the big date being the Rawa Blues Festival in Poland which is the largest indoor blues festival in the world. They've dubbed us as 'The great British hope for blues' so that's definitely going on the poster!"
FIND OUT MORE
www.krisbarrasband.com
www.facebook.com/krisbarrasband
www.twitter.com/KrisBarrasBand
www.instagram.com/krisbarras