Join us at dBs Music Bristol HE centre on June 30th for a free open day event of recording studio tutorials, soft synth workshops, electronic jam sessions, pedal building and more! Sign up to secure your place. Get hands-on with the legendary SSL Duality or API 1608 consoles or improve your Ableton skills and try out Push 2 control in Ableton, there's a packed day of workshops to enjoy.

Plus, explore dBs Music's incredible education facilities and world-class studios. Learn more about dBs Music and their range of music technology and production courses at dbsmusic.co.uk

Strictly limited places, no on the door tickets. Attendees must be 17yrs or over
---
Workshops running throughout the day include:

Recording masterclass on the API 1608 console
A recording masterclass in our industry standard 'Studio 3', which is home to the excellent API desk - the only one of it's kind in education in the UK.

Pedal Building
Our resident pedal modder and master of the soldering iron, David Harvard demonstrates a pedal prototype circuit explaining the skills and parts you need to start building your own effects pedals. Join him to learn to use and manipulate electrical components, understand what each element does as you discover how changing a few components can manipulate gain, tonal characteristics and more!
Building your first synth in Native Instrument's Reaktor
Get to grips with one of the most versatile and powerful pieces of music software available and learn how you can use easy building blocks and simple techniques to create your very own custom virtual instruments!

Mixing on an SSL Duality console
Experience the sound of mixing a commercially recorded track through the very latest breed of SSL console. Hear the quality of the SSL signal path, gain and EQ. Learn how to set up external hardware, reverb and effects to start to balance and polish a professional mixdown.

Recording Foley sound for games and VR
In a great combination of Foley recording and 3D VR sound. This workshop will help you learn how to capture fantastic Foley sound and FX and then implement the recorded sounds into an interactive game.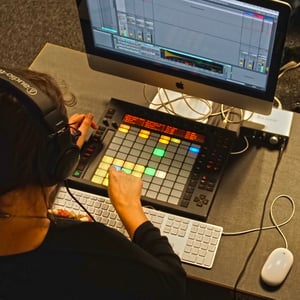 Live Electronic Jam
A dBs Music tutor and also one half of electronic duo Playhead, Bruce Turner gives you the opportunity to jam and delve deeper into the potential of hybrid electronic music setups. Understand how to integrate gear such as guitars, pedals, effects and drums with triggers MIDI, laptops and much much more. Whether you come loaded with questions about your own setup and how to improve it or want to try an electronic based jam for the first time and see and hear some top flight gear in action!

Discover dBs Productions
Head of dBs Productions, Jay Auborn invites you to see the projects and productions from dBs Music's non-profit commercial arm. Learn how students get involved with dBs Productions to gain experience on real-world projects from artistic installations and 3D ambient literature to full movie soundtracks and album recordings.

Producing with Ableton Push
Follow at your own workstation with Ableton Push as Ableton expert Liam O'Mullane demonstrates the power of Push 2 and how to integrate it into your music making and production workflow.
---

FAQs
What should I bring to the event?
A good pair of headphones if you have them and a high capacity memory stick

How can I contact the organiser with any questions?
Please email enquiries@dbsmusic.co.uk or call 0333 344 2243

Do I have to bring my printed ticket to the event?
No
Sign up now as spaces are limited!
FIND OUT MORE
dbsmusic.co.uk/open-days