When The Voice held auditions at dBs Music in Bristol, one of our former Music Performance diploma students, Shannon Kitchen was chosen to move on to the TV audition stage and performed to Jennifer Hudson, Tom Jones, Will.I.Am and Gavin Rossdale. We tracked Shannon down to ask her about her time at dBs Music and her awesome audition on The Voice...

"I studied at dBs Music Bristol FE on the Music Performance course," Shannon explained, "and I got the chance to be taught about the business side of music and I am so glad I had to opportunity to learn it when I did. Since I left dBs Music, I started to busk and soon after I started gigging on my own and I'm loving every moment of it.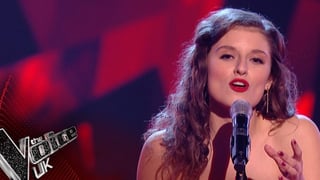 "I auditioned every year for four years to get onto The Voice but I didn't get anywhere at first. I was determined not to give up. Last year I went through months of auditions to get onto the show and when I finally did, it was the best feeling. It's nothing like what you see on TV but it's real. I'm so glad I did it!

"On the day of the audition I had to wake up at 4:00am as we had the TV interviews to do and other filming. It was quite overwhelming and by the time I got back stage at about five o'clock in the evening I felt the adrenaline kicking in. As soon as I walked out onto the stage I was in my own little bubble. It was such a great feeling.



"The judges didn't turn for me, but I'm not disappointed, what would a dream be without a challenge right?
Since then I've started on my new project! I've got my own new band and I'm hoping to be gigging my own material in the next six months, which is really exiting. My new website and social media sites will be up and running soon too, so look out for s KAY!"
---