Back in 1999, Finnish producer, Ville Virtanen, aka Darude released a dance track that sounded like nothing else around at the time. It went on to be re-released, remixed and Bootlegged so many times, it featured in big room and festival DJ sets across the whole spectrum of dance music genre's. Since then Darude has steadily built a rock solid career in music, with constant releases and remixes, live shows and DJ sets.
Tell us about how you got started?

"I've officially been a DJ since 2004, before that, since 1999 I did live shows with keyboards, samplers, effect units, singers, guitar players, percussionists and live visuals - I still do live shows for special occasions, too. I started making music when I was around 20 years old. My career I guess I could say started in 1999 when Sandstorm was released and it started climbing the charts.

"When I started making music I was really liking a lot of different kinds of electronic music, but to name names here are some of the biggest and most meaningful ones; JS16, Scooter, Westbam, KLF, Faithless, Bad Boys Blue [yeah!], Pet Shop Boys, Prodigy, plus many more. I didn't have music or production education, I just started messing around with computer software and synths. I've studied tons along the way, though, read books, magazines, websites and forums, and I still do this every day."
Take us back to the song you are known globally for, Sandstorm, how did that idea come about?

"In the beginning I just tinkered with sounds, basically studied some of my fave tracks, like what sounds they used, where the bassline started, where the breakdown was etc. I wasn't thinking of releasing those tracks, but for learning purposes I was trying to recreate those tracks, but with my own melodies and sounds.

"In that process I came across a sound and a melody that when distorted, became the lead sound of Sandstorm. It's a crappy, unassuming 8-bit mono sample that becomes that unique sound when distorted. Truthfully, it was one of many happy accidents I've had happen when making music. These days I actually try to create good conditions for those accidents to happen, and I allow myself time to stumble on them!"
"I can't really claim that too many of my tracks are carefully planned, they just happen. I start from somewhere, for instance get inspired by someone else's track, or a cool synth sound, and then just start playing some keys with it, and building stuff around it trying to make sure everything sounds great together and on its own. It took two years to create Sandstorm... sort of.
"It was in 1997 when I was making another track when I came across this cool sound and I made a little melody with it. I put it aside because it didn't go anywhere at that time. Almost two years later I went through some old projects on my hard drive and I found the melody again. I heard something nice in it this time and after putting it through a distortion unit it sounded especially amazing to me.
"I got very inspired and it took me maybe a day to get the basic track done and about a week or so to tweak things before I burned the first demo on a CD and took it to some local DJs and eventually to Jaakko 'JS16' Salovaara. The original melody was made in a tracker program called FastTracker2 from where I exported it to Cubase where I put the track together using Korg Trinity Rack synth sounds and Propellerhead ReBirth drums.
"When Jaakko got involved we updated most of the sounds except the original lead melody using the gear in his studio; Clavia Nord Rack 2, Roland JP8080 and JV1080 and Ensoniq ASR10. A fun bit of trivia is that it was, as was the whole first album, sequenced with Cubase on Atari ST and mixed with Mackie 24/8 and recorded to DAT."
Did you know you had a hit record on your hands when you finished? Tell us about how the record changed things for you and some of the amazing things that have happened to you since Sandstorm....
"I have no idea why and had no idea it would become anything big. Seriously, I wasn't a DJ, didn't even really dare to call myself a producer, but just a hobbyist noisemaker, and while I sent out demos to some Finnish labels, radios and music magazines, I didn't have any grasp of the industry or that I could one day have a hit record, so I wasn't even dreaming of anything else than my local fave DJ spinning my track burned on a CD and me watching in the corner if the people reacted or not.
"But when Jaakko "JS16" Salovaara and I got our final mix done and took it to some of our trusted friend DJs and when they played it, the reactions were unbelievably crazy, like on first hearing people were going bananas anywhere and everywhere it was played, then we started thinking there was something to it!
"I met my wife through music, we have a beautiful son and we live in a nice house in a nice neighborhood, those are the most amazing things that have happened since Sandstorm. Obviously music and gig wise there have been huge highlights like last New Year's Eve when I played in front of 80000 people in Helsinki, Finland, to start the 100 Years Of Finland celebrations year and my first show in Ibiza in July 2000. Also, collaborating with amazing people, starting of course from my then-huge-idol JS16 to Finnish wonderboy's Elastinen and Robin for instance, plus various producers, writers and singers around the world, too many name all!"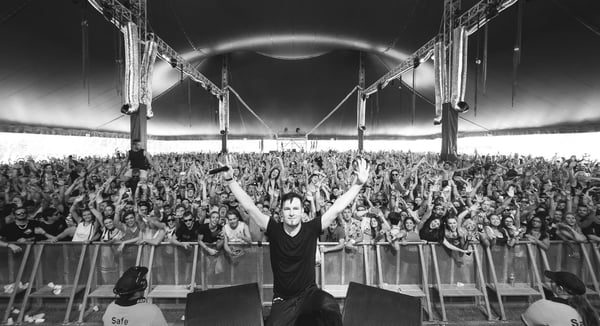 Because of having such a huge hit, did you find yourself under lots of external pressure from labels to try and follow up with another, and another and another hit?

"After the first album Before The Storm when Jaakko and I started working on the second album that became Rush, we did have a good bit of pressure initially, but we decided that we wouldn't care about what other people and labels were expecting, we just made music and had fun with it. That's one of the reasons why the first single was chosen to be 'Music' and not a "lighter" or more commercial sounding track. We decided that we'd rather have possibly limited club chart success with a harder and nobody's-ass-kissing track than a track that people could say we calculatedly made to try to get on the radio or something. The track, Music was well received by DJs and it charted in top 20 club charts in many countries and people still request and recognize it at my gigs, so I consider it a success.
"On the personal side I didn't really have much time to process or even notice the success, as I was doing so many things all the time; interviews, gigs, music; I was on the road for 9 months out of the year the first few years. It was just go-go-go!"
What's your advice for anyone entering the electronic music scene now? What would you do differently if you could?

"You should know & understand the basics: DJs are not automatically producers, producers might not be DJs. Writers might not perform their own songs, singers might not write the songs they sing, etc etc… But if you're a producer, always have your music with you, you never know who you'll meet and who you could give a CD or preferably these days a USB stick to.

"Do a lot of self promo, but don't be an arrogant dick, let your music do most of the talking. Don't spam anybody's page without permission. Look for like-minded people and collaborate, combine talents and promo forces and learn from others. Don't count failures, only successes, small or big.

"Don't quit your studies or job until you know you're secure financially, because any kind of stress, but especially financial kind, will kill your creativity. And if you're a DJ as well as a producer, having your music with you at all times could lead to fun impromptu after party back-to-back sets, for instance!
"I don't know if I'd do anything differently… On one hand I could've invested more in brand building, using big money on publicists and high profile managements etc, but on the other hand, times were different back then, the industry was smaller, the internet didn't play as big a part, music was actually sold, streaming didn't exist etc. Easy to have 20/20 vision now.

"But yeah, I've learned a lot, especially to be cynical about a lot of things, which I'm still in the process of learning out of, because it's not productive, it's not the happiest place to be. One thing (that is easier said than done, I admit), is to work with and surround yourself with good people; have both people with musical and production knowledge to bounce ideas off of and 'regular' people who will tell you from a listener's point of view if what you're working on sounds good or not."



Talk to about how your production style and studio has changed over the years... What are your favourite bits of kit in the studio now?

"My favourite studio tool is Logic Pro, where everything is put together. I use Logic's stock EQ and compressor a good bit, Space Designer reverb and also Valhalla Vintage Verb. I use Sylenth, Serum, Spire, Nexus, Waves and Native Instruments plugins a lot. Melodyne for tuning and sound mangling. Oh, and VolumeShaper and LFO Tool are my go-to sidechain ducker plugs, plus you can do much much more with them, too. On the 'Moments' album I collaborated with several producers who use Ableton Live, which I've used for live shows and some quick sketching earlier, but now produced 3 tracks on, which was fun and gave a different perspective for sure!
"In the beginning I was more a programmer than a composer, these days I do both and more and more 'just' composing, too. I have piano or keyboard days, when I don't produce, I just play keys and record any good bits I come across and later use those as starting points for new tracks. I also love interacting with singers and writers in the studio, relaxed collaboration sessions, co-writing or even just chatting and writing ideas down, then working on them separately is often so much fun and very fruitful."


---
Darude's tips for a better mixdown
As you work on your production, go through arrangement tracks and...


Check the frequency space of each individual track
Cut or lower unneeded frequencies of single sounds and instruments, at least the low end, but make sure you listen both solo and everything playing to check you haven't removed too much.

Clean whine, rumble, honk dirt etc. with EQ

To create a sense of space or width, pan some sounds subtle amount left or right in the stereo field, maybe counter with another sound to keep the balance.

Check reverbs and delays and clean with EQ or pull down wet levels to de-clutter mixes. Some really wet presets often sounds great played alone, but they can muddy a whole mix.

Sidechain duck reverbs and delays, trigger with the dry track to create space for vocals or lead synths ie. push the effect down a few decibels when the vocal/lead is on, and when it ends, the effect comes back up; play with the release time to make sure it flows and is timed well.

If there are lot of tracks, put everything to busses. This makes things easier to handle when 50+ tracks are narrowed down to less than ten groups of similar sounds

Send arrangement tracks to 6-10 mix busses - mine are BD, BASS, LOOPS, DRUMS, CLAP, PERC, OTHER, SYNTH, FX, VOX.


---
Who are your current favourite producers and why? Who has been your biggest inspiration over the years?

"Joonas Hahmo, K-System, Audioventura, Super 8 & Tab, Orkidea, Tom Fall, Rony Rex, Lenno, to name a few of my fellow Finns who are just solid and consistent with their chords, melodies and groove and all have great production sound as well. Of the international ones I could mention ilan Bluestone, Orjan Nilsen, Ashley Wallbridge, Ferry Corsten, these guys have been around for a while and churned out killer tracks one after another!"
What's coming up for you now?

"After just finishing the 37 show 2017 Winter Tour, my summer tour will be published very soon. There will be a Tomorrowland date, some North American dates, a couple of great Finnish summer festival dates, which I'm very excited about!"
FIND OUT MORE
www.darude.com

---
Interested in Music Production, DJing and Electronic Music? Why not join us at dBs Music and take your music career to the next level.