It's been a few years since there was a guitar show in the South West, particularly of this size. These kind of shows are a mecca for any guitarist with clinics by various professional players, a wide range of guitar and related gear manufacturers along with a plethora of boutique traders and collectors displaying and trading - full tilt guitar geek country. Having been invited by the organisers, our chief guitar wizard, Wes O'Neill from our dBs Music Bristol FE centre headed down early ahead of the crowds to seek out his personal picks...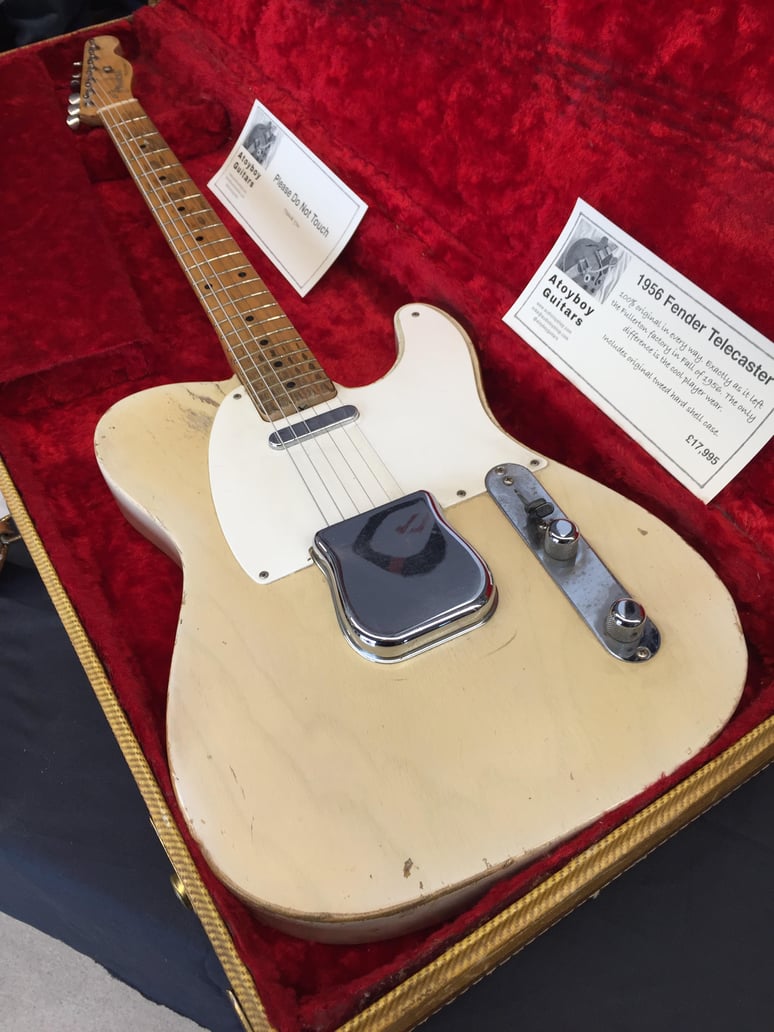 1956 Fender Telecaster
It's rare to find a guitar of this age with all original parts with no changes nor additional soldering or other repairs since it left the Californian Fullerton factory in the autumn of 1956. White guard blonde finish, "ashtray" bridge cover and very light for a Tele at 3.1KG with an early staggered pole pickup in the bridge giving the familiar 'Tele twang" and the creamy blueness of the neck pickup. The Tele necks of 1956 are widely considered to be the best and most comfortable to play and this one is no different with notable players including Danny Gatton, Albert Collins, Keith Richards and a little known guitarist/collector in Joe Bonamassa. The original tweed case and cool player wear only add to it's character.
Valued at £17,995
---
1959 Gibson ES-335 TD
Now, being a huge fan of both artists who it originally belonged to, this is a very special guitar and one I had already enquired about before. Joe Satriani came to own this guitar as he was looking for a 335 for session and album work. His friend Pierre de Beauport (Head Guitar Tech for Rolling Stones) offered to send him some from their collection for him to try with 6 arriving at Joe's house. After a couple of weeks, Joe decided upon this one which has not only been played on tour by The Rolling Stones but played on both albums with Joe's supergroup Chickenfoot and on other session work. Originally the Kluson tuners were not holding tune so they have been replaced with like for like and the black surround on the bridge pickup also due to probable splitting at some point. Fabled early original PAF humbuckers give this guitar a sound like no other with a recent refret giving it superb playability. Talking with Editor of Guitar and Bass magazine and friend of dBs Music Chris Vinnecombe, he told me that whilst it's a great guitar the fact it has such documented owner history certainly bumps up the value. It plays great by the way, anyone got a spare...
Valued at £35,0000
---
1957 Fender Stratocaster
At the end of the Vietnam war, this guitar was in the thick of the action. Collector and owner David Plues tells the story…
"It's in a pretty clean condition, you would call it an 8/10 as it's not perfect and has some battle scars. It's all original and testament to the build quality as it's all held up over time. It belonged to a Master Sergeant in the US Marine corps who was one of the marines brought in to evacuate US officials from Saigon in 1975. The flag, ceremonial white cotton gloves and the Rangers scarf all in the case is from one of 9 guard houses that circled the US embassy in Saigon. The helicopters were taking off from within the compound, the CIA place and from the rooftop of the embassy itself. The Master Sergeant was in one of the guardhouses and wasn't going to leave these to the Vietnamese so he took them back and flew out to the ship where he had the guitar. He wrapped up the guitar with the flag and when he later died I bought it from this daughter. As you can imagine, when I go to America, they absolutely love this story."
Offers to buy have been made to David but this guitar is too precious to be sold and creates a following from anyone who comes into contact with it. This and other guitars in David's collection are to be featured in an upcoming issue of Guitar and Bass magazine.
Valued at £priceless!
All at dBs Music would like to thank Ken Dixon et al for their hospitality at such a well organised, friendly, non elitist and varied event. The show will return in 2018 and is set to be even bigger...
FIND OUT MORE
www.mojoguitarshows.co.uk
www.audiotoyshop.com
www.burst-videobase.com